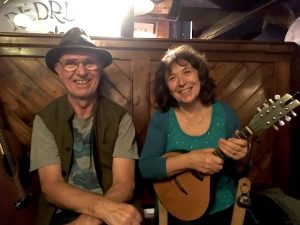 Tin Taxi is husband and wife Dave and Linda.
In addition to singing and playing in  Tin Taxi, Linda currently sings with the popular Cornish acapella group Kescana. She plays the mandola, tenor banjo, and 8 string ukulele and guitar.
Dave played in the Scottish blues duo  Greyhound 61, before moving to Cornwall, singing and playing harmonica, guitar and banjo.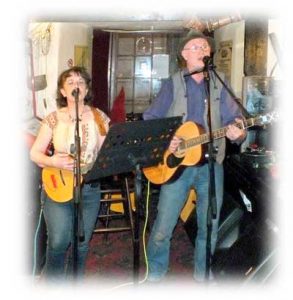 We both play in Cornish band Bagas Crowd.
We have been singing and playing in many folk clubs, open mics and festivals up and down the country for seven years.
We play Americana, plus contemporary and traditional folk, usually on guitar, mandolin and harmonica. But we occasionally bring out an 8 string ukelele, and sometimes a few other instruments.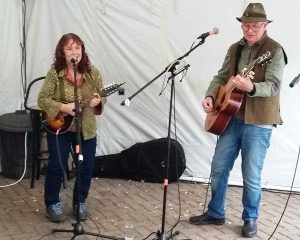 We tailor our set up to suit the venue. In a small quiet environment we leave the mics and amp in the van and perform purely acoustically. In a bigger but quiet venue we'll use a single mic and small battery powered amp so that folk at the back can still hear us. In a noisy place we'll use a bigger mains PA and plug in the instruments (the same ones we use acoustically) so we can be heard.

We spend most of our time in Cornwall and the South west but we head up country for festivals or mini tours when the fancy takes us.
If you're interested in booking us, or just contacting us for any reason, simply drop us a line.